Home
»
Gutters & Downspouts
Gutter Company Serving Charleston and Nearby in South Carolina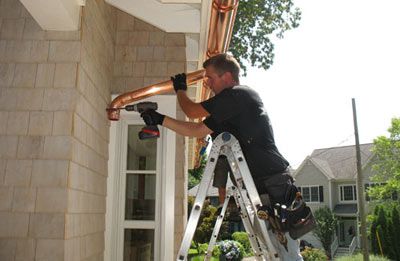 Good water management. A well-designed, professionally installed gutter and downspout system provides protection against erosion, plant damage and basement flooding.
Keep your home protected with gutters, gutter guards, and downspouts
Gutters are not something that homeowners always prioritize, but they can make a big difference in your home. Gutters are essential for removing water from your roof and directing it away from the home, preventing problems such as roof leaks and basement flooding.
New Age Contractors are your local experts for complete gutter replacement and installation services. We offer all types of gutter and gutter guard systems, ensuring that your home is fully protected from weather damage.
If you're interested in new gutters or gutter guards for your home, give us a call today at 1-844-676-4349 or click below to get started. We offer free estimates in Mount Pleasant, Summerville, Charleston and throughout the surrounding areas.
Things to consider when choosing gutters & downspouts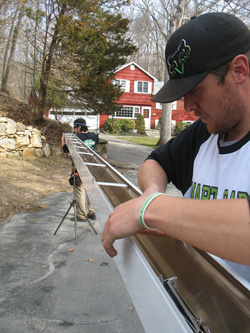 Custom made. An advantage of aluminum gutters is that they can be made to an exact size to fit your house. The gutter-making machine is right on the truck, ready to transform aluminum sheet material into a finished gutter profile.
Repairing gutters is not always a great option, which is why many homeowners choose to replace their gutters when a problem arises. Here are some key factors to consider when installing new gutters:
Materials: Gutters are typically available in a variety of materials, including wood, steel, copper and seamless aluminum gutters. Aluminum gutters are the most common choice due to their affordability, durability, and color choices. However, owners of historic properties often choose copper gutters or wood gutters to maintain their authentic appearance.
Color: Aluminum gutters come in a wide variety of colors from the manufacturer, and typically can be painted any color you want. If you're looking for a unique design or simply want options, aluminum is the ideal choice.
Style: Different gutter "profiles" are available. Aluminum gutters are often formed in a "K" profile that includes a flat back section and a curved front. Half-round gutters can sometimes be found on older houses.
Size: K-style gutters come in 5-in. and 6-in. sizes. The larger size is usually specified when the roof area being drained is especially large and/or steep. An experienced gutter installer will be able to determine which size is best for your house.
Gutter guards: This popular gutter add-on prevents gutters from clogging and overflowing – a smart addition to any gutter installation.
Additional drainage options: Downspout extensions are sometimes necessary to carry roof runoff away from the house. Many of these simply extend out over the yard or garden, while others consist of buried pipe that drains to a dry well or daylight outlet.
We provide complete gutter solutions in Greater Charleston
If you need any gutter services for your home, including repair, replacement, and installation, the experts at New Age Contractors are here to help you. We offer a variety of styles and materials to ensure you get the right solution for your home.
Call us today at 1-844-676-4349 or contact us online to get started on your gutter repair or installation project. We offer free estimates on all our work in Charleston, Summerville, Mount Pleasant, Goose Creek, Ladson, Johns Island, Beaufort, Moncks Corner, North Charleston, Hanahan and throughout the surrounding areas.
Looking for a price? Get a no cost, no obligation free estimate.