Air Conditioning Repair and Installation Solutions Provided in Charleston and Surrounding Area
Our air conditioning services:
Residential and commercial cooling
Repair and maintenance of all air conditioner makes and models
Air conditioning replacement and installation
Central air conditioning
Ductless air conditioning systems (and mini-splits)
Furnace repair, replacement & installation
In the middle of summer when the air is at its hottest, you want a reliable air conditioning system that can keep your South Carolina home or business cool and comfortable. New Age Contractors can help you decide on a properly sized, reliable, and energy-efficient air conditioning system for your Greater Charleston home or business.
Our trained, experienced technicians can repair your air conditioning system, or completely replace it if necessary. In the long run, installing an energy-efficient AC system can save you money on home energy bills -- and replacing an old air conditioning system means less need for repairs!
Contact New Age Contractors to schedule an appointment to have your HVAC system inspected. We will provide a free estimate for air conditioning installation. We provide our HVAC services to residents of Summerville, Charleston, Mount Pleasant and nearby towns and cities.
Types of cooling systems
Central Air Conditioners: Central air conditioners, or whole-house air conditioning systems, circulate cool air through a system of supply and return ducts. Warmer air is drawn back to the cooling evaporator coil to be reconditioned. A central air conditioner is either a split-system unit or a packaged unit. In many houses, a heat pump HVAC system provides both air conditioning and heating.
Ductless mini-split air conditioners: Ductless air conditioning provides the convenience and efficiency of a central air conditioning system without the need for ductwork. The air handler is mounted on the wall or ceiling to deliver cool air.
Evaporative Coolers: An evaporative cooler (also called a "swamp cooler") is a completely different type of air conditioner that works well in hot, dry climates. When operating an evaporative cooler, windows are opened part way to allow warm indoor air to escape as it is replaced by cooled air. Evaporative coolers cost about one-half as much to install as central air conditioners and use about one-quarter as much energy. However, they require more frequent maintenance than refrigerated air conditioners and they're suitable only for areas with low humidity.
Room Air Conditioners: Room air conditioners cool rooms rather than the entire home. If they provide cooling only where they're needed, room air conditioners are less expensive to operate than central units, even though their efficiency is generally lower than that of central air conditioners. Smaller room air conditioners (i.e., those drawing less than 7.5 amps of electricity) can be plugged into any 15- or 20-amp, 115-volt household circuit that is not shared with any other major appliances. Larger room air conditioners (i.e., those drawing more than 7.5 amps) need their own dedicated 115-volt circuit. The largest models require a dedicated 230-volt circuit.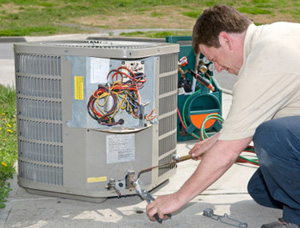 Replacing your old air conditioner can save you money on your energy bills
When choosing an air conditioner, look for a high Seasonal Energy Efficiency Ratio (SEER). The national minimum is 13 SEER for central air conditioners. Some ENERGY STAR models are 14.5 SEER or more. The cooling experts at New Age Contractors can help you choose the right air conditioning system that's properly sized for your home. We are experts in air conditioning installation and maintenance.
An air conditioning system that is taken care of properly can last you around 15 to 20 years. But now that better, more energy-efficient air conditioning systems are available, it may be beneficial to home and business owners to replace old AC systems.
You should also be sure that your home has an digital programmable thermostat that you can easily set. It will save you wear and tear on your HVAC system, and will save energy. It will keep rooms in your home or office building more comfortable without you having to worry about when or how long the system is running.
Don't sweat it! We have the solutions for all your cooling needs
To learn more about air conditioning units and other temperature control matters in South Carolina, give us a call or contact us online for an air conditioning system inspection and estimate, and we'll send one of our professional HVAC technicians to your Charleston, Summerville, Mount Pleasant, SC county home to help you with your home energy savings.
New Age Contractors can service, repair, and install a variety of HVAC and air conditioning system makes, including Trane, Amana, Daikin, Goodman, American Standard, Bryant, Carrier, Coleman, Fedders, Friedrich, Lennox, Sanyo, and Ruud. Contact us to find out exactly which options we have available!
Looking for a price? Get a no cost, no obligation free estimate.