Privacy Fence Installation in
Mount Pleasant

,

Summerville

& nearby

Greater Charleston
Looking for a more private yard? New Age Contractors can give you the perfect privacy fence for your home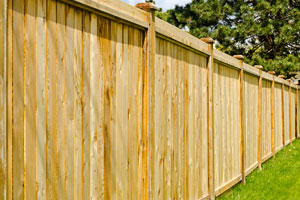 Privacy fences help turn your yard into a peaceful, protected space
Many homeowners want their yard to be a private retreat where they can relax without interruption from others. If that sounds like something you want, a privacy fence from New Age Contractors is a great option. Privacy fences are designed to create peace and quiet and give you the comfort of having your own space. A wide variety of options are available for privacy fences, allowing you to choose the best fit for your yard.
Balancing privacy and style
A privacy fence doesn't have to just be a wall dividing you from your neighbors. By design, they feature strong, upright slats and panels as well as the option to add gates with locks. However, these fences come in many styles, colors, and heights, allowing you to design an elegant fence that complements your yard and offers exceptional privacy from sight and sound. Many privacy fences have rich, custom-designed appearances, and we will created a beautiful finished product that adds to the curb appeal of you home.
Privacy fences are a durable option
Privacy fences come in a variety of materials. Here at New Age Contractors, we offer only high-quality products, installed by experienced professionals, so you know you're getting a fence that will last. Our fences are finished and sealed properly, giving you protection from the elements. Privacy fences are a long lasting solution that will give you increased function and curb appeal for years to come.
Get a free estimate on a privacy fence today
New Age Contractors has affordable prices without ever sacrificing quality and fine workmanship. Our professional fencing installation staff will be sure you get exactly what you want with a hassle-free, enjoyable experience.
New Age Contractors invites you to contact us to schedule an on-site meeting for a free estimate to discuss all of your pertinent questions you may have. We proudly offer our services in Greater Charleston, including Charleston, Summerville, Mount Pleasant, Saint George, Walterboro, Hollywood, Cross, Sullivans Island, and nearby.
Looking for a price? Get a no cost, no obligation free estimate.