Heat Pump Water Heater Contractor Serving
Charleston

,

Summerville

& Nearby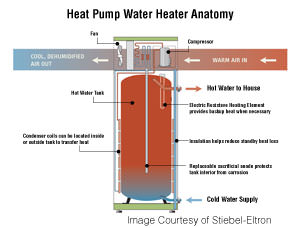 We service, install, repair & replace these innovative water heaters
A heat pump water heater (HPWH) combines the proven performance of a tank-type water heater with the efficiency of heat pump technology. Whether you need service or repairs for an existing HPWH or a new installation to replace an older water heater, New Age Contractors has the expertise to meet your plumbing needs and keep your hot water flowing.
At New Age Contractors, we can replace your old water heater with a heat pump hot water heater. We also offer heat pump water heater repairs at an affordable price. Get a free estimate in Mount Pleasant, Summerville, Charleston and nearby for water heater replacement or heat pump water heater installation or repair. Contact us today!
How does a heat pump water heater work?
Heat pump technology is already at work in your home, enabling your refrigerator and air conditioning system to function. Heat pumps exploit the special properties of a refrigerant by pumping this compound through evaporating and condensing cycles to "move" heat from one location to another.
A HPWH moves heat from the room where the appliance is installed to a heat exchanger (condenser) located inside or around the hot water storage tank. As shown in the drawing, an electric resistance heating element is incorporated into the design in case backup heating is required. Like other ENERGY STAR® water heaters, heat pump water heaters are insulated to reduce standby heat loss.
Pros & Cons of heat pump water heaters
To find out whether or not you should have a heat pump water heater installed, it's helpful to examine the advantages and limitations as described below.
PROs
Greater efficiency & lower water heating costs. Replacing a standard electric, tank-type water heater with a HPWH can cut your water-heating expenses in half.
Cooling & dehumidification. In addition to heating the water you use for washing, a HPWH will cool and dehumidify the space where the water heater is installed. This is an advantage if your house can benefit from cooling and dehumidification.
Rebates from state & federal incentives. Depending on where you live, there may be rebates or other incentives that will help defray the higher cost of a HPWH.
CONs
Higher initial cost. Because of the heat pump components, a HPWH can cost twice as much as a comparably sized standard tank-type water heater.
Comfort & efficiency issues in cold climates. The heat pump will cool the space surrounding the water heater, which can be a disadvantage during cold winter months. The unit's efficiency also goes down as ambient room temperature drops.
Get the best value in water heaters, plumbing repairs & other plumbing services from the professionals at New Age Contractors
We're the local experts in Greater Charleston for water heater replacement, repairs, and maintenance.
Call us at 1-844-676-4349 or get an online quote for any of our plumbing services in South Carolina. We serve Charleston, Summerville, Mount Pleasant, Johns Island, Ladson, Goose Creek, Moncks Corner, North Charleston, Hanahan, Beaufort and the surrounding area.
Looking for a price? Get a no cost, no obligation free estimate.