Hardwood Floor Repair & Restoration Services in
Charleston

,

Summerville

& Nearby

Greater Charleston
Benefits to hardwood floor refinishing & restoration
Cost-effective: No need to tear out flooring
Faster recovery following a disaster
Prevention of mold and secondary damage
Preservation of unique and historical wood flooring
We work fast to restore water-damaged floors to pre-loss condition
New Age Contractors specializes in hardwood floor recovery and drying to repair and restore water-damaged hardwood floors following a flood, sink or bathtub overflow, or any other type of disaster.
A wood floor gives any room unique character and a connection to timeless craftsmanship. With each flooring board displaying a one-of-a-kind grain pattern, the overall impression provides a vision of natural beauty that delights the eye. It's no wonder that we consider it a tragedy when wood flooring is damaged for any reason.
Fortunately, even severely damaged wood flooring can be restored if the proper materials and techniques are used. When your hardwood floors have sustained water damage, it's important to act quickly to prevent moisture from soaking into the wood flooring and sub-floor, causing possible warping and mold growth.
Complete disaster recovery starts with our free estimate
Schedule A FREE Estimate
Contact New Age Contractors to schedule an estimate for hardwood floor restoration or to refinish your hardwood floors. Our water damage restoration and disaster remediation services are available in Charleston, Summerville, Mount Pleasant and areas in and around Greater Charleston and throughout South Carolina.
Our hardwood floor restoration services include:
Structural repair & reconstruction
Careful matching of original flooring
Floor patching
New wood flooring installation
Drying
Repairs to buckled flooring
Wood floor refinishing
Molding & threshold repair & replacement
Water and moisture are the major enemies of wood flooring
A wood floor in reasonable condition can easily endure small amounts of moisture that result from spilled drinks or wet shoes. But the prolonged and total soaking that result from flooding, plumbing leaks and severe storms can severely damage wood flooring.
Flooring boards can swell and buckle. Floor finish can be damaged. Unless thorough drying can happen quickly, mold can take hold on flooring and even on wood underlayment. In extreme cases, a fallen tree can structurally damage the floor.
Even if it seems like the damage was minor, it's best to call a disaster restoration expert to ensure that all water has been removed and that the area is completely dry.
Aim for a customized hardwood floor repair plan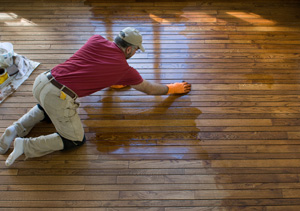 Back to beautiful. The same level of craftsmanship that went into installing a wood floor should go into restoration work following a flooring disaster.
When your hardwood floor is damaged, it's important to contact a contractor who can handle the restoration work from start to finish. That's what you can expect from New Age Contractors. Following a free thorough inspection of your damaged flooring, we'll develop a customized plan to duplicate the beauty and function of your original floor as closely as possible.
If necessary, we can locate new flooring boards that are a close match for any original flooring that must be replaced. We can even replace damaged joists and sheathing beneath the floor if necessary. The final step – applying new flooring finish – can be done to your specifications, based on the appearance and durability you desire.
If you reside in Summerville, Charleston, Mount Pleasant, Goose Creek, Ladson, Johns Island, Beaufort, Moncks Corner, North Charleston, Hanahan or nearby, call us at 1-844-676-4349 or contact us online for a free quote to repair and restore or replace the hardwood flooring in your home today!
Looking for a price? Get a no cost, no obligation free estimate.