Heat Recovery Ventilator & Energy Recovery Ventilator Installation in
Mount Pleasant

,

Summerville

& nearby

Greater Charleston
Bring fresher air into your home with a whole house ventilation system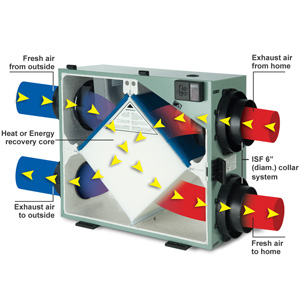 Balanced home ventilation. An HRV is a fan-powered device designed to exhaust stale indoor air, while pulling in fresher outdoor air. Image supplied by the Imperial Manufacturing Group.
A heat recovery ventilator (HRV) or energy recovery ventilator (ERV) is an ideal solution for new homes that are tightly sealed or remodeled homes with energy efficiency upgrades. An HRV or ERV system can replace stale, polluted indoor air with fresh outside air, improving the indoor air quality of your home.
New Age Contractors installs a wide selection of quality, affordable whole-house ventilation systems from leading manufacturers.
To request an in-home consultation and free estimate for the installation of a ventilation system, call us at 1-844-676-4349 or click the button below to fill out our online contact form.
Why install a ventilation system in your home?
If your home has been air sealed to save energy and improve comfort, this can affect the indoor air quality of your home. In fact, the air inside your home can be 2-5 times more polluted than the air outside. Without proper ventilation, the build-up of pollutants like mold, pet dander and dust inside your house can make allergies and asthma conditions worse. HRVs and ERVs eliminate this problem by exchanging stale indoor air for fresh outdoor air. Both ventilation aids are designed to work with forced-air heating and cooling systems.
There are many reasons why installed a HRV or an ERV system in your home can be beneficial. For starters, these ventilation systems help your home maintain comfortable temperatures more effectively. Your heating and cooling system won't have to work as hard, lowering your monthly heating and cooling costs. The lowered demand on your HVAC system also means a reduced risk of a breakdown. As part of a larger strategy of household energy efficiency, it can be quite effective.
Differences between HRV & ERV systems
A heat recovery ventilator and an energy recovery ventilator are both designed to exhaust stale indoor air, while supplying the home with a steady flow of fresh outdoor air. The two types of ventilation systems have slight differences:
Heat recovery ventilator
An HRV reclaims energy from exhausted indoor air to temper incoming fresh air. Heat is retained during cooler months and removed during warmer months.
Energy recovery ventilator
Like an HRV, an ERV reclaims heat and energy, however, it also removes excess humidity from incoming air. An ERV system transfers moisture from incoming, humid air to the stale indoor air that is being distributed throughout the home.
Get a free estimate for professional installation
The experts at New Age Contractors can help you select the right ventilation system for your home, as well as design a customized indoor air quality plan. Our trained technicians will install your system to ensure the best results. We provide free estimates for all HRV and ERV services in Goose Creek, Ladson, Johns Island, Beaufort, Moncks Corner, North Charleston, Hanahan and surrounding areas. Contact us today!
Looking for a price? Get a no cost, no obligation free estimate.