Indoor Air Quality Improvements from Greater Charleston's Expert HVAC Contractor
We repair, replace and install HVAC equipment for IAQ improvements:
Furnaces
Air conditioners
Air ducts
Humidifiers/dehumidifiers
Air purification systems
Ventilation systems (heat recovery and energy recovery)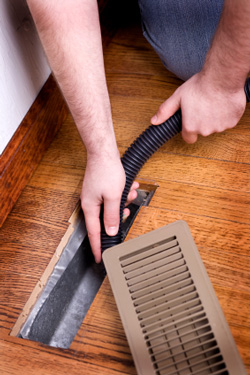 Air care. Having your ductwork system cleaned and sealed will improve air quality and also cut heating & cooling costs.
Make sure your home is safe & healthy with smart indoor air improvements
Is your house harming your health? Because the average American spends about 90% of his or her time indoors, indoor air quality (IAQ) is a very important issue. In fact, there's even a name for the various illnesses associated with indoor air pollution: Sick Building Syndrome. Respiratory ailments, allergy symptoms, eye irritation and frequent colds are some of the most common illnesses caused by indoor air pollution.
Because there are many sources of indoor air pollution (see "Common sources"), your healthy home strategy needs to involve awareness and improvements in different areas.
As an experienced HVAC contractor, New Age Contractors has the tools to accurately assess your home, recommend the proper repairs and/or upgrades, and provide a no-obligation quote for all work.
We provide indoor air improvements in Summerville, Charleston, Mount Pleasant and surrounding areas. We repair, replace and install furnaces, boilers, and air conditioning; and we also offer air duct repair, maintenance and sealing.
To setup an appointment with one of our indoor air quality specialists, call us or contact us online today!
Here's a short summary of the different steps you can take to ensure healthy indoor air.
Start with the simple stuff
Make sure to enforce a no-smoking policy throughout the house. Also encourage family members and guests to use bathroom fans and the vent hood above the kitchen stove – basic ventilation equipment that rids your home of odors, excess humidity and (if you have a gas stove) combustion byproducts.
Another basic method for improving IAQ is to change the air filter on the main plenum of a forced-air HVAC system.
Be a smart shopper
Avoid cleaning products that contain strong bleach and harmful solvents. Today you can find a good variety of "green" cleaning products at most supermarkets. Make sure to buy furniture and home furnishings that don't contain formaldehyde and other harmful VOCs (volatile organic compounds). These pollutants cause problems as they outgas from fabrics and furniture.
Common sources of indoor air pollution in SC
Tobacco smoke.
Cleaning supplies that contain harmful solvents (benzene, toluene, etc.).
Cooking & bathroom odors.
Harmful emissions from combustion appliances (furnace, gas stove, fireplace, etc.).
Radon gas.
Mold spores.
Dust & pet dander.
Dust mite debris.
Asbestos from old insulation and other old building materials.
Harmful compounds in paint & insecticides stored indoors.
Volatile organic compounds (VOCs) like formaldehyde emitted by furniture & furnishings.
Lead dust from old lead paint.
Test for dangerous pollutants
If your house was built before 1978, it may contain lead paint that becomes hazardous when paint flakes are ingested (by children) or when lead dust is inhaled. Do-it-yourself tests for lead paint are available online and at home centers. If your house tests positive, your local health department and the EPA website are good sources of information about protective strategies.
It's also important to test your house for radioactive radon gas, which is emitted from rocks and soil. If a radon test shows levels above 4 picocuries per liter of indoor air, contact a local radon mitigation contractor. Radon levels can be kept permanently low with a basic radon abatement system.
Manage moisture to prevent mold & mite problems
If you can smell mold or see telltale blotchy deposits in damp areas of your home, it means you're inhaling microscopic mold spores that can cause numerous health problems. Eliminating unwanted moisture is the best way to control mold. Make sure that bathroom fans operate properly and are ducted to the outdoors rather than into the attic. Correct plumbing leaks and keep water out of basements and crawl spaces with an effective waterproofing system. If necessary, run a dehumidifier in basement and crawl space areas to keep humidity below 60%. These moisture control strategies will also discourage dust mites whose feces and debris also contribute to indoor air pollution.
Improve your HVAC system with services performed by our experts
New Age Contractors can check the furnace or boiler in your home to make sure that combustion gasses are venting properly. Other combustion appliances (gas fireplace, gas-fired water heater) should also be checked to make sure that carbon monoxide isn't being drawn into your indoor air supply.
If your house has ductwork for forced-air heating and/or cooling, it's smart to have these air ducts sealed and cleaned. Our professional duct cleaning can help reduce the amount of dust in the air, while duct sealing can prevent "bad" air from basement or crawl space areas from being drawn into your indoor air supply. It will also significantly improve your HVAC system efficiency, cutting your heating and cooling costs.
Contact New Age Contractors to learn more about all the ways we can help to reduce indoor air pollution in your home. We're the local experts for all HVAC services, including air duct repair, furnace repair, air conditioning repair, heating repair, as well as installation and upgrades for heating and cooling equipment.
Looking for a price? Get a no cost, no obligation free estimate.